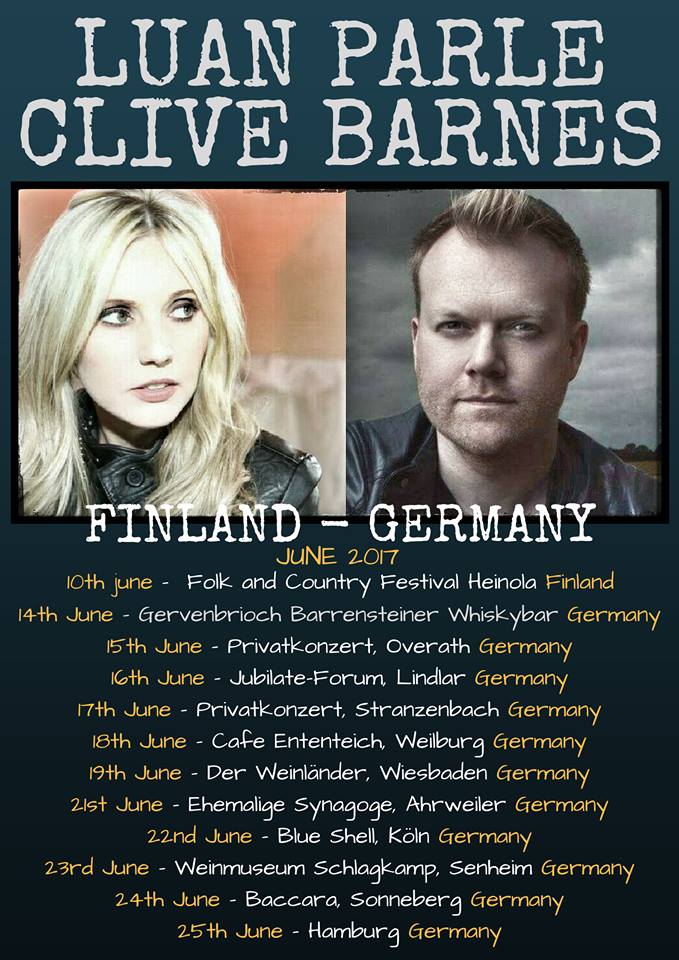 Hey folks,
Starting this weekend in Finland; Saturday June 10th, Clive Barnes and I play the Country and Folk Festival in beautiful Heinola alongside our pal
Mundy
and very special guests. Tickets are priced at €20 but are limited so get them early. They can be purchased online 
here
Then it's on to Germany for an 11 date tour with 
Concert Connections
 and my first time to tour and visit Germany.
See full list of venues below….
14th – Barrensteiner Whiskeybar, Grevenbroich
15th – Privatkonzert, Overath
16th – Jubilate-Forum, Lindlar
17th – Privatkonzert, Stranzenbach
18th – Cafe Ententeich, Weilburg
19th – Der Weinländer, Wiesbaden
21st – Ehemalige Synagoge, Ahrweiler
22nd – Blue Shell, Köln
23rd – Weinmuseum Schlagkamp, Senheim
24th – Baccara, Sonneberg
25th – Privatkonzert, Hamburg
For all details & to purchase tickets please see www.luanparle.com/shows

Cannot wait to see you there,

Luan x