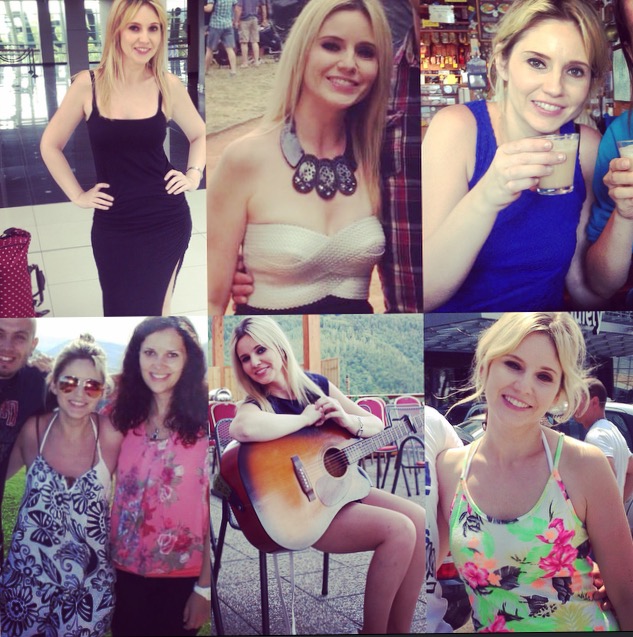 Well hello my lovely friends,
I thought I'd put together a little blog on what I Wore for our mini tour of Slovakia, so here it is 🙂
We all know that it can be a pain having to pay extra to put luggage through and then having to wait an eternity on the other side. Over the years I have learned that travelling light is always the better option, taking your bag on board but not always possible. Us girls tend to carry a lot whether it be clothes, shoes, make up, hair utensils etc and it can be a nightmare to pack light. Knowing our schedule in Slovakia was going to be pretty hectic with not a lot of time for deciding what to wear while in Slovakia I decided to pay my great friend and stylist Jenny of Ghost Boutique a visit; https://www.facebook.com/GhostLadiesboutique
I explained to Jenny that I needed to travel light but I needed clothes for traveling in, everyday clothes & clothes for the shows, but without having to bring a million pairs of shoes. Jenny is just amazing and within no length at all had an outfit for each occasion chosen for me. Jenny has the most amazing eye and knows exactly what you want even when you don't. It took all the hassle out of having to rustle through my wardrobe trying to mix and match outfits and taking with with much more than I needed. It was great knowing what I was going to wear each day & it enabled me to pack light.
I picked up this cute little roller holdall (which you can see is really not that big at all) and I was all set to go.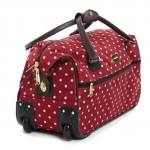 So my first outfit was for flying & travelling in. Our flight was early so we left home at 5am. Knowing there could be a little chill at this time I needed something warm but travelling to a country which is currently 40 degrees also needed to be cool. We chose this gorgeous floral maxi dress for €17.99 themed with a denim jacket and my beloved pink bag €39.99 (which was nice and big to fit all our travel docs & itinerary)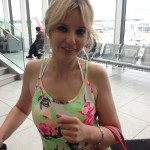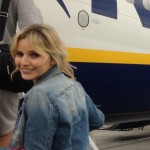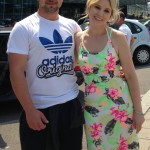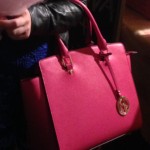 That night I was appearing onstage at the launch of Slovakian band NEZNÁMI'S album launch. I was chosen as Godmother (a Slovakian tradition when launching an album) I wore a blue floral design trousers €29.99 with a blue lace top €29.99 and themed it with my black leather jacket. I've posted a pic below but it's difficult to see the outfit so I have posted one similar on the manikin.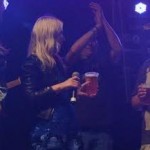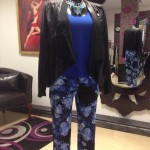 You can see the top a little better in this pic (It had another outing when we went to the mountains)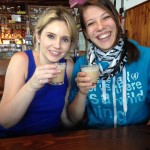 My bikini was a variation of the one I wore in the video for Roll The Dice EDM Mix and available from H & M. They have mix & match tops & bottoms. I chose this one to avoid strap lines 🙂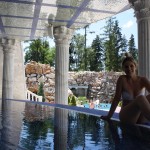 Day 2 was extremely hot so I chose this gorgous jumpsuit. It's so light it barely took up any room in my case. It's available for € 39.99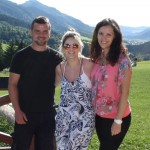 That night we played two shows, one was the Umelecký festival and the other FestDobréBohunice. They were around 40 minutes drive apart so I didn't get time to change outfits. I absolutely loved this outfit so maybe it was just as well 🙂 The outfit is a long black skirt with side slit €14.99, themed with a stunning bodice style silver and black top €32.50 which looks like an all in one dress. The neck piece really finishes off the look which is €25.00. I wore the outfit with my black and white heels. It was so comfortable to wear and so easy to move in which is so important to me.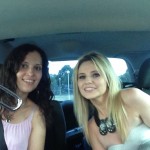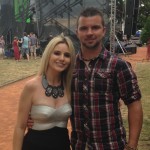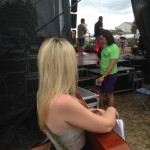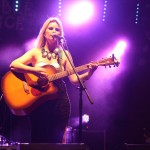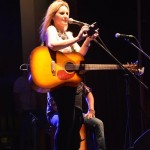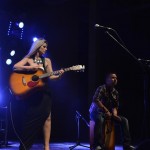 The following night I played the stunning mountain resort Hotel Partizán. For this I wore my navy playsuit € 39.99 with white lace belt €14.99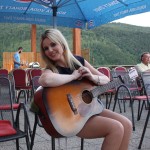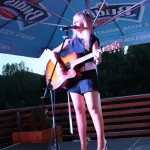 The day we traveled home I wore the black skirt again but with a black vest top and sandals. Comfortable & cool for travelling in.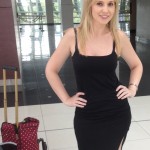 And that was it folks 🙂
Ciao for now amigos,
L x