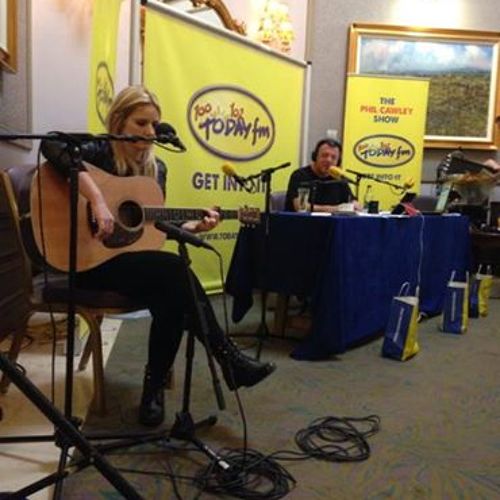 So it was around this time last year, one September afternoon I was relaxing in the bath when my phone rang. Having been away from the music scene for a while it was a really welcome surprise to hear my good pal and radio legend Phil Cawley on the other end of the phone. Of course he was unaware of my whereabouts at the time 🙂 (and has been up until now) but I was just delighted to hear from him.
Phil invited me to perform at his upcoming outside broadcast show in Wesport Co Mayo. Around that time I was still in studio recording my new (soon to be released)  EP (release date Oct 30th) and admit I was a little nervous having been out of the public eye for a few years. I planned to make a come back with the new batch of songs I had been recording but was still unsure of how I was going to do that. I jumped at this chance.
The following day I drove up to Dublin and met Phil's amazing producer, the oh so lovely Jennifer Dollard at the Today FM HQ. Jennifer and I traveled over to Westport together unknown to us both that we would hit it off like a house on fire and it would be the start of a wonderful friendship.
I had the most fabulous time in Westport working with the most amazing people including sound engineer Derek Recks. (Picture below with Derek & jennifer working together again recently in Dingle)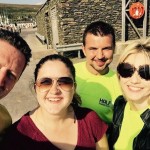 I remember the night before the show over dinner, Phil said to me to think long and hard about the songs I would perform the following day. He suggested one old and one new…this was the perfect opportunity to try out one of the new songs I had been working on…and so, the next morning I decided I would give 'Day Is Done' it's first ever airing.
The reaction to the song was amazing, and to be honest I was a little taken aback. I thought people would have forgotten me now so it was really heartwarming to realise that wasn't the case. On the back of the show I released 'Day Is Done' as my first single from the EP and my first single release since 2011. The song went straight to no 1 in the iTunes Chart and no 8 in the Irish Airplay Chart.
Following that, I released another single from the EP 'Roll The Dice,' an EDM Mix of that same single and now I'm about to release the third single 'You're Not Here'. 'You're Not Here' is a melancholy ballad, and my first ballad release since 'Ghost' which was 2008.
Ghost was the most played Irish song of that year, peaking at no 10 in the Irish Charts and spending a duration of 12 weeks in the Irish Top 30.
'You're Not Here' will be released Ocotber 23rd and lead in single to that very EP which will come out the following week October 30th.
The Phil Cawley Show has been instrumental in my journey the past year, and had Phil not have made that call I'm not sure I would be here right now, writing this blog. I owe so much to The Phil Cawley Show and will be forever grateful.
What happens next? who knows… but I have loved every second of this new journey I've embarked on which has resulted this year in 3 Pure M Award Nominations, A Stellar Award Nomination & A PPI Award Nomination. During the summer we also got to headline a festival in Europe playing to 1,500 people. It was the most amazing feeling in the world and one I think I had maybe forgotten.
I play music because I love it, it's in my blood and it's in my soul. I was a kid who signed her first record deal at 12 years old, however it had become more about the music 'business' and less about the 'music'. The time away done me the world of good, I feel rejuvenated, inspired and refreshed with a new outlook….but I needed a break to bring me back. The Phil Cawley Show gave me that break.
It seems only fitting that The Phil Cawley Show have the #firstplay exclusive of the brand new single 'You're Not Here'. Tune in today at 2.50pm to hear the very first airing and please let me know what you think….I'll be only dying to hear all feedback,
Ciao for now amigos,
Luan x