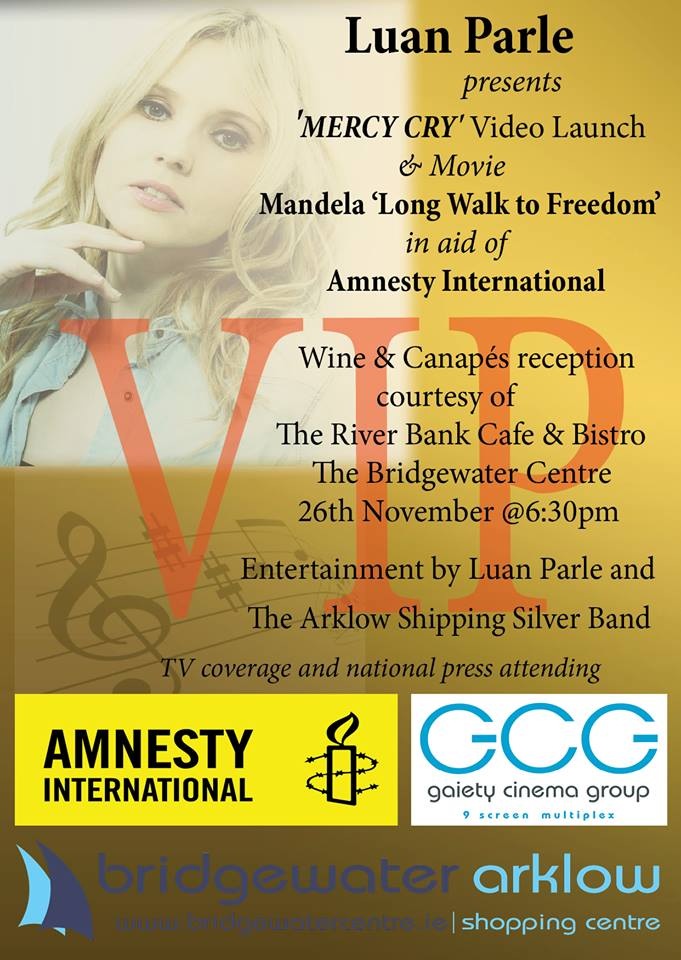 So it's been a busy couple of weeks with the single release.
Luan was in with Ian Dempsey last Monday morning for a chat and a choon. Ian announced the song was his chosen 'Song Of The Week'.Listen here; http://www.todayfm.com/Luan-Parle-Live-in-Studio
Next up Luan performed live & chatted on the couch to Maura on Daithi on the Today Show RTE 1. Watch it here; http://www.rte.ie/player/ie/show/10346155/
Luan performed a few tunes live on the Miriam O Callaghan Show with the fabulous Clive Barnes, check them out here; http://www.rte.ie/radio1/sunday-with-miriam/
Yesterday Luan gave an exclusive interview to Barry Egan Independent.ie while also performing live. Check it out here; http://www.independent.ie/entertainment/music/lun-parle-i-stepped-out-of-the-spotlight-for-a-while-i-needed-to-be-reminded-why-i-love-this-30772770.html
This Wednesday November 26th will see Hollywood come to Arklow. Luan Parle will host a red carpet V.I.P film night in aid of Amnesty International at GCG Cinema, Bridgewater shopping Centre.
It will be a night of glitz and glamour with well known T.V and sports personalities.
This one night only event will see all the proceeds going to Amnesty International.
There will be a pre-drinks and canapes reception at the new River Bank Cafe & Bistro, while the Arklow Silver Band will play a selection of "Music from the movies"
Amnesty Director Colm O'Gorman will officially launch the night and Luan will play a couple of her hits including the new no1 "Day is done".
Luan linked up with Annesty International Ireland to release the video "Mercy Cry" in a bid to raise much needed funds for the repair of Gaza.
The video will be shown on the night followed by a screening of the Oscar nominated movie "Nelson Mandela's, Long walk to freedom.
Tickets are now available from McMullen's boutique, Main Street, Arklow and Halpin's Bridge Cafe in Wicklow town for € 20.
This Friday and Saturday Luan & Clive will play upstairs at The Roisin Dubh Galway & McCarthys Dingle. For further info on tickets etc please check out tour dates 🙂