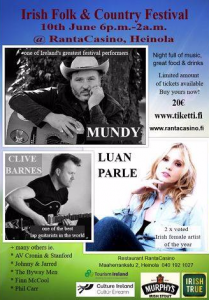 Luan Parle with Clive Barnes
10
Jun
2017
Heinola, FIN
Heinola Irish Folk & Country Festival will take place at the stunning RantaCasino Heinola Finland June 10th at 6pm.
Line up includes Mundy, Clive Barnes. Luan Parle, Indie/Celtic-rock-Duo LARRYLAND, Irish songwriter & singer John P.Cronin + other special guests, ie. Bywaymen ja FinnMcCool .
This is a night full of wonderful music, great food, drinks & fun.
This will be an open air festival if the weather permits, with bad weather the festival will be moved indoors.
Limited amount of tickets for sale at www.tiketti.fi
Tickets 20€. Don't miss this opportunity!